Invincible Veleda




Rarity
★★★
Cost
10
Nation

Bellator

Type

Corsairs

Combo Type
Release Date
Unknown
Encounter Message: You'll need all these things for travelling. Give me your money!
"My greatest friend and my greatest rival is always disappearing on secret missions. Doesn't she get lonely by herself? I like being surrounded by a loyal crew and a good captain."
— Invincible Veleda
The greatest pride of this warrior is her undefeated record in the Colosseum. Her risky technique involves completely ignoring defense to focus entirely on unrelenting attack.
Attack:
Lvl 1 : 1500
Max  : 3143
Max+: 4085

Growth: +35
Defense:
Lvl 1 : 1000
Max  : 1793
Max+: 2330

Growth: +15






Growth Progression: [2-30]
Skill: none


Enhance Value:
150 experience
Dismiss Value:
840 pence
Acquisition
Edit
-Persuade boss in Bellator, Chapter 12, Act 1
-Persuade after random encounter in Story Mode Chapters 1-15.
-Persuade after random encounter in certain Dungeon Events.
-Persuade boss on Floor 10 in Mount Aurelia during the Crush the Rebellion Event.
Bonus Story Information
Edit
Related to Bonus Story 29 for Ticket x1, Kraken Draught (Cup) x1 - additional requirements: Sergeant Ellan.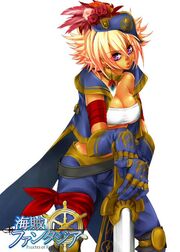 Non-English details

Japanese name
無敵のヴィヴ
Chinese name
无敌薇薇
Voice file
Voice actor (J)
何直美
Voice actor (E)
Nan Naomi