"I'll be satisfied as long as I can decide what I want in my life, whether it'll make my life happy or sad. Don't you think so as well? I will go my a own way, even if that means I'll be going against everyone else. That's how a pirate should be!"
— Andred the Victorious
She is a princess of the otherworld who became a pirate because she hated the idea of marriage of convenience. She was summoned as she fought with her former fiancé. She is now enjoying her life as a pirate with her new friends.
Attack:
Lvl 1 : 4400
Max  : 8081
Max+: 10505

Growth: +35
Defense:
Lvl 1 : 4000
Max  : 7581
Max+: 9855

Growth: +35






Growth Progression: [2-60]
Skill: Rope's End
All ATK +10%

Event Skill: Succubus Slayer Lv.5
Damage +120% in Succubus Hadeel Brawl
Enhance Value:
500 experience
Dismiss Value:
5880 pence
Acquisition
Edit
-Lightning Brigade Rescue during the Dungeon of the Succubus Event.
- Watermelon Rescue during the Watermelon Party Event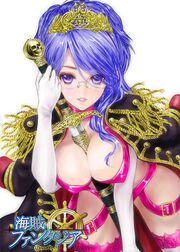 As revealed in Sanctus Chapter 14, she is the captain of the Lightning Brigade
Andred the Victorious may have been summoned by witches. 



Non-English details

Japanese name
放蕩王女アルビダ
Chinese name
Voice file
Voice actor (J)
加藤美佐
Voice actor (E)
Kato Misa